&nbsp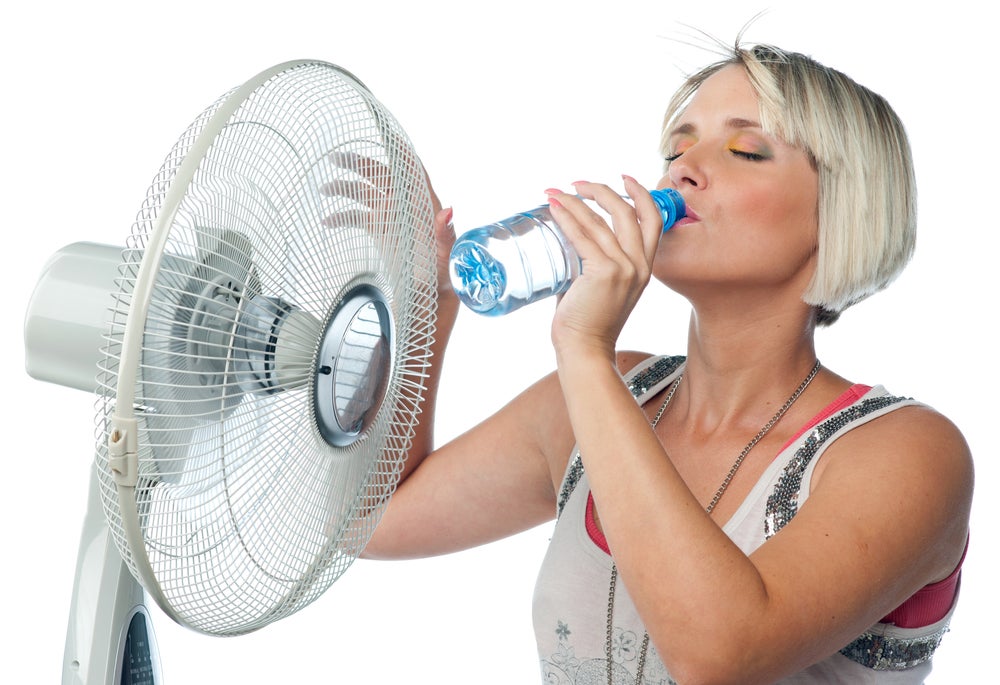 3 Tricks for Preventing Hot Flashes Without HRT
Lack of hormones during menopausetrigger annoying symptoms, one of which is hot flashes that come out of no where. They can leave you dripping in sweat, with a red face and pounding heart. During those moments, you may find yourself reaching for ice water, turning on every fan in the house, and maybe even changing your clothes. It's frustrating and embarrassing, so if you could find a way to prevent these personal summers it would be helpful.
Hormone replacement therapy (HRT) can be used to prevent and treat these hot flashes, but you might want an alternative. Lucky for you, your HysterSisters have some suggestions. Here are some of their tips for how to keep hot flashes at bay.
Know Your Triggers
Learning your hot flash triggers lets you avoid them and hopefully cut down on some of your hot flashes. Keeping a journal can help you track hot flashes and learn your triggers. Here are some of the triggers for your HysterSisters:
Spices
Alcohol
Coffee
Tea
Sweets – specifically chocolate
Hot drinks
Vigorous exercising
Hot weather
Hot tub
Stress
Getting angry
Vacuuming
Sweeping
Hand washing dishes
Using a blow dryer
Wearing turtle neck sweaters
Over multi-tasking
Illness
Passionate kisses.
Get Cool
Staying as cool as possible on a daily basis has been helpful for some of your HysterSisters. They cool off in a few different ways.
Turn the thermostat down all year around.
Don't wear tight clothes, including underwear.
Keep a fan blowing at all times – on you and to keep air moving in the room.
Drink cold fluids all day long, every day.
Switch to cooler, breathable materials – for clothing and sheets.
Try a Hot Flash Cocktail
Taken daily, a hot flash cocktail of supplements could help prevent hot flashes. Before trying any, be sure to discuss each supplement and vitamin with your doctor. Not all of them are right for all women. Here's the "recipe" some of your HysterSisters have used:
400 IU Vitamin E (mixed d-tocopherols)
500-600 mg Calcium Citrate with 400 IU Vitamin D
200 mg Magnesium Citrate
500 mg Vitamin C with Bioflavonoids
Omega-3 Fatty Acids (equivalent of 360 mg DHA & 240 mg EPA)
Don't Give Up
If none of these tricks work, don't give up. There are a lot of options and alternatives you can try. Your doctor can help you decide which ones are right for you. Some options include the following:
This content was written by staff of HysterSisters.com by non-medical professionals based on discussions, resources and input from other patients for the purpose of patient-to-patient support.  Reprinted with permission: 3 Tricks for Preventing Hot Flashes Without HRT