&nbsp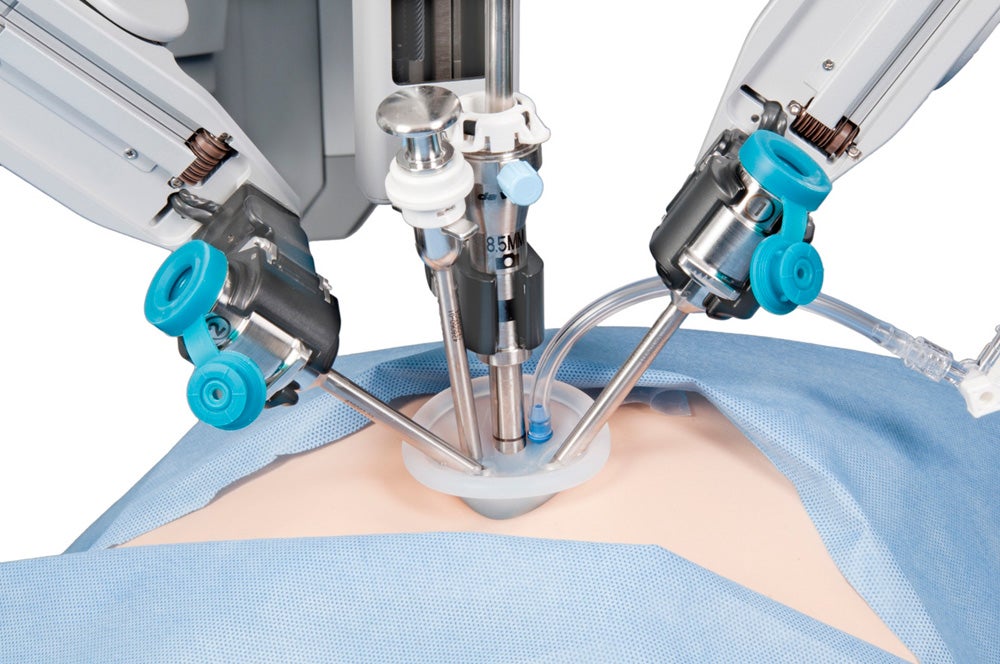 First Single-Site Robot-assisted Hysterectomy at Clear Lake Regional
December 23, 2014
Webster, TX – Southeast Houston women now have the opportunity to undergo a Single-Site™ robotic-assisted hysterectomy, a less invasive procedure, without having to travel outside the comfort of the Clear Lake area.
Using the most advanced technology available, the da Vinci® Si Robotic Surgical System can perform the delicate and complex operation through one tiny incision in the navel and remove the uterus.  The surgery can be performed in about one hour with a typical hospital stay of 24 hours or less.
First Single-Site Robotic Hysterectomy
Tranee Martin is the first Clear Lake Regional Medical Center patient to have the Single-Site™ robotic-assisted hysterectomy.  "As a nursing student, I only had a two week break to get my procedure done and be externally healed before having to return back to my fall nursing school schedule.  With only having a single incision, the pain was very minimal, unlike what it would have been had it been a six site or open procedure."
Clear Lake Regional Medical Center CEO, Stephen K. Jones says, "Because the single-site procedure is less invasive, our patients experience less discomfort. The technology to surgically enter through the belly-button allows for minimal scarring.  Clear Lake Regional Medical Center is excited to offer its patients this option resulting in a shorter hospital stay and high patient satisfaction."
How It Works
During the procedure, the surgeon sits at a console and uses controls to operate the high-definition viewer to move the instrument arms and camera. The surgeon is 100% in control of the da Vinci® Si Robotic Surgical System during the procedure. In real-time, the system translates the surgeon's hand, wrist and finger movements into more precise movements of the miniaturized instruments inside the patient. The special wristed instruments bend and rotate far greater than the human wrist. As a result, the robotic-assisted approach enables surgeons to operate with enhanced vision, precision, dexterity and control.
Clear Lake Regional Medical Center offers a variety of robotically-assisted surgeries in addition to single-site hysterectomy, including colon and rectal, general surgery, gynecological oncology, gynecology, obstetrics and gynecology, reproductive endocrinology and infertility and urologic surgery.
To learn more about robotic surgical procedures or to schedule an appointment with a robotic-trained physician, please call 888-842-DOCS (3627) or visit www.clearlakermc.com/Services and click on "Surgery."
About Clear Lake Regional Medical Center
Clear Lake Regional Medical Center is a full-service hospital offering inpatient and outpatient medical, surgical and specialty services. The campus includes The Heart & Vascular Hospital, Breast Diagnostic Center, Wound Care Center, a level III Neonatal ICU, the area's only Pediatric Emergency Department and Pediatric ICU, and a comprehensive range of services for patients of all ages. With a medical staff of more than 850, Clear Lake Regional Medical Center employs more than 2,100 medical professionals and has served the community for more than 40 years. In 2013, Clear Lake Regional Medical Center invested $92 million in an expansion and renovation project that enhanced services to better serve the Bay Area Houston community. For more information, call 281-332-2511 or visit online at www.clearlakermc.com. For the latest news and updates, visit our website at http://clearlakermc.com/or stay connected with us on Facebook and Twitter.
About HCA Gulf Coast Division
HCA Gulf Coast Division is a comprehensive network of hospitals, outpatient surgery centers, emergency centers, and diagnostic imaging facilities.  It offers a complete continuum of specialized health programs and services that meet the needs of Greater Houston and South Texas' residents and businesses.  HCA affiliated facilities in the Gulf Coast Division include: 13 hospitals, 8 ambulatory centers, 7 off-campus emergency centers, and a regional transfer center that provides one-phone-call access and support for patient transfers into and out of the HCA Gulf Coast Division Affiliated Hospitals, as well as access to ground and air transportation within a 150-mile radius.  For more information, visit our website at www.HCAGulfCoast.com.